Getting rid of Rover ants can be a difficult and frustrating task. Without the proper approach, an ant colony can stay alive for 5 to 10 years.
Don't worry we've got you covered.
In this post, we'll go over how to identify rover ants and what you can do to get rid of them.
Let's get started.
What Are Rover Ants?
Rover ants are an invasive species. These ants prefer building their nests indoors, especially inside walls. As such, they are a common household problem.
They are native to South America, in particular Argentina.
They are a relatively new species to the United States. With the first recorded infestation in 1976.
Since then, they have expanded significantly and are common in the coastal states and the South.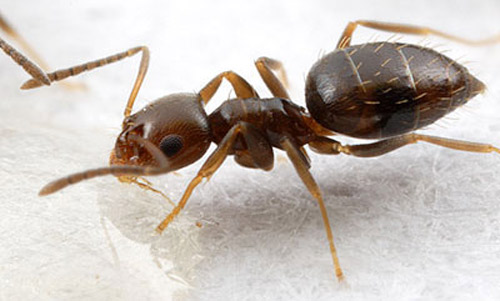 What Do Rover Ants Look Like?
Rover ants have some distinct features that you can use to help identify them.
Their size and antennae are one of the easiest ways to tell them apart from other ants.
Antennae: 9 segmented antennae rather than 12 or more like other ants species.
Size: Very small, only about 2.5mm long.
Color: Vary in color from pale yellow to dark brown.
Body: Hump like appearance
Hairs: Small yellow hairs on gaster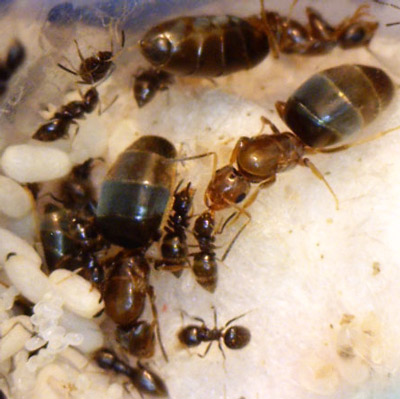 1. Inspect Your Home
The first step to getting rid of rover ant is to inspect and monitor your home.
Inspecting and monitoring allow you to do two things.
1. Identify the type of ant that is inside your home.
2. Locate where they are coming from.
Since different species of ants feed and behave differently, the approach to getting rid of them should reflect those differences.
To correctly identify ants you can either capture them or take a photo.
If you find a trail, follow it back and try to find the source.
Keep track of any other locations you see other ants inside or outside your home.
This will help you when placing ant baits in the next step.
2. Eliminate Items That Attract Ants
Ants, just like all other insects, are in search of three key things: food, water, and shelter.
As such, the easiest way to get rid of them is to make your home less appealing.
Eliminate any food and water sources that the ants may be using.
To do this, you can:
Vacuum. Make sure you clean under your furniture and appliances to remove hidden crumbs
Wipe down surfaces to remove any food and water residue.
Remove or wash any dirty dishes, laundry, or surfaces.
Remove or place pet food in an airtight container. Make sure you clean the bowl once your pet is finished eating.
Seal all food in containers, leave no open containers.
Wipe-down any wet surfaces to remove excess moisture.
3. Use Pre-Bait
To do pre-baiting, you'll need to use bait to attract ants.
Once the forager ant finds the food, other ants will follow.
Keep in mind different species of ants prefer different types of food. Some prefer protein, while others prefer sugar.
Unless you know what type of ants you have, I recommend testing both a sugar and protein pre-bait.
For the sugar bait, try a 50/50 mixture of honey and sugar. And for the protein bait, you can use peanut butter or a few small pieces of spam.
Place the bait where you spotted the ants. You can also put the trick where ants are known to frequent.
Common locations include:
Baseboards
Guidelines
Under or Around Bet
Inside Closet
Top of walls (crown molding)
Window sills
Corners of Walls
Make sure to place your bait out of direct sunlight. Doing so will prevent the bait from losing efficacy.
You'll also want to check your pre-baits throughout the day.
Different ants forage at other times.
For example, Pharaoh ants are active during the day and night.
But other ants, such as Odorous ants, are nocturnal.
Once you've found the trail, follow it to determine where they came from and how they got in—doing so will tell you where to treat the ants.
If there are multiple ant trails, follow each one. Numerous ant trails could sign that there are two ants' nests nearby. If so, you may need to treat each one separately.
4. Identification
Rover ants are not the most common type of ant that invades home.
If you do see small ants in your home you first need to verify the type of ant.
Other common household ants are sometimes confused with Rover Ants.
Phorah Ants
Pavement Ants
Some outdoor ants that enter indoors are also confused with Rover ants as well.
Argentine Ant
Little Black Ant
Before yo begin treating your home its important that you identify some key characteristics of the ant you captured.
Appearance
There are a couple of ways you can examine an ant's appearance.
First is by capturing one ant and using a magnifying glass to study it.
The second is to use a zoom or macro lens and take a photo to get a closer look.
Food Preference
Different types of ants have different diets.
Some ants might prefer sweets and protein, while others might prefer oils and fats.
For instance, carpenter ants prefer proteins and sweets. On the other hand, fire ants will prefer meat and lipids.
You can use the ants' choice of pre-bait as a baseline for what you'll use in your bait treatment.
Nest Location
Following the trails to find an ant's nest can help determine what type of ant it is.
Carpenter ants, for example, live inside the wood.
On the other hand, pavement ants may build their nest under concrete and come up through the cracks.
It's not always easy to determine where an ants nest is.
5. Ant Baits
Baiting is the most effective treatment for treating Rover ants.
Other treatment such as aerosol sprays are only temporary solutions.
Bait stations are permanent solutions. They are also fast and easy to use.
Ant baits are a mixture of attractant and insecticide.
When a worker ant finds the bait, they take a portion of it and tell other workers to bring it back to the colony.
The ants will then place the bait in their food storage area, contaminating the rest of the food.
Eventually, the contaminated food and the bait will kill the entire colony.
There are three factors that go into a successful bait strategy:
The right bait
The right location
Lack of other food Sources
Location
Place ant baits in all the locations where ants were active during pre-baiting.
Doing so will make it a seamless and efficient transition once you apply the bait.
Other ideal locations to place bait indoors include:
Under appliances
Small cracks and crevices
Cabinet door hinges
Windows or door sills
Along walls or cabinets, guides, and baseboards.
Near sources of water
Near ant trails
Other Food Sources
Remember to remove any pre-bait or other food sources that might attract ants.
Baits are most effective when they are the only food source.
Ants will have no other choice but to eat the bait.
Type Of Bait
When selecting your bait, choose a bait that has the same base as the pre-bait the ants were eating.
For instance, if the ants consume sugar based bait during pre-baiting, use sugar as your base for the actual bait treatment.
If the ants consumed both pre-bait, then either type of bait should work.
Baits typically take 1-3 days to kill ants that directly consumed the bait.
It's expected to eliminate an entire colony between 1-2 weeks
For cracks and crevices on walls, I recommend using a syringe bait. This will allow you to go deep into those holes and be able to target ants better.
6. Apply Non-Repellent Spray
Baiting is generally enough to eliminate ant infestations. But, if you want extra protection, you can also use barrier treatments.
Barrier treatments are great for structures with severe ant problems. Severe ant problems mean that you consistently see thick ant trails indoors or outdoors.
Barrier treatments involve spraying an insecticide around the foundation of your home.
I recommend using a pressurized sprayer to apply a 3-foot wide base around your home's perimeter and a 3-foot wide application on the walls.
When ants walk through the insecticide, they will take it into their nest and spread it to the rest of the colony.
Make sure to use a non-repellant spray. Repellent insecticides kill on contact but are generally infective. They cause ants to flea and create more colonies.
7. Keep Ants Away With Preventative Measures
Keep ants permanently gone by taking preventative measures.
One of the easiest ways to keep ants out is to remove their food and water resources.
To do this, make sure you:
Clean up food preparation areas once finished.
Wipe down your counters after eating.
Clean anywhere you recently saw an ant trail prevent them from using it again.
Clean underneath appliances where food tends to accumulate, such as the refrigerator, microwave, and stove.
Store food properly in airtight containers or bags, including dog food.
Fix any leaking pipes or faucets.
Another easy and effective preventative method against ants is to seal up any entry points.
The harder it is for ants to get in, the less likely they will try and enter your home.
The best way to do this is to seal up any cracks, holes, and crevices on your walls, doors, and windows.