Bed bug infestation can spread pretty quickly for two main reasons:
They are expert stowaways
They breed relatively quickly
Bed bugs spread fast because they are expert stowaways.
They can relocate from room to room by hitching a ride on items such as your bags,
pillows, clothes, blankets, etc.
And because bed bugs are sneaky, it's challenging to identify and treat them before their population grows.
Also, while bed bugs do not spread as fast as many other insects, their population can grow exponentially.
If a single pregnant bed bug entered your home the bed bug population could grow to nearly 7,000-bed bugs in less than 5 months.
This is assuming adult bed bugs can lay three eggs per day and adult bed bugs live for at least two months.
How Fast Do Bed Bugs Move from Room to Room?
A single bed bug-infested furniture can spread the infestation to other items pretty quickly.
There are a few reasons for this.
Bed bugs spread fast is because they are elusive and expert stowaways.
They can relocate from room to room by hitching a ride on items such as your bags, pillows, clothes, blankets, etc.
And because bed bugs are sneaky, it's challenging to identify and treat them before their population grows.
Bed bugs can also crawl three to four feet per minute on most surfaces. That means they can travel from your mattress to your carpet very quickly.
While they prefer to stay in bedroom furniture, bed bugs can live in many places that provide darkness and little airflow.
Some places where you can find bed bugs include:
Mattresses seams and folds
Underneath mattresses
Under box spring
On box spring seams and fold as well as inside box springs, especially on the wood.
On wood crevices on box spring
Bed covers
Pillow covers
Drapery and curtains
Small crevices or gaps on the bed frame
Dressers and nightstands
Other furniture near beds or couches
Lamps
Walls
Behind hanging pictures and other hanging items.
Holes or crevices on walls or floorboards.
Inside couches
On carpet
On chairs and other furniture
Window sills
How Fast Do Bed Bugs Breed?
While bed bugs do not spread as fast as many other insects, their population can grow exponentially.
Indeed, bed bugs cannot reproduce asexually. That is, they need genetic material from a male and female to create eggs.
That said, a single female bed bug can mate with any of her offspring once they become an adult.
Female bed bugs can lay up to five eggs each day.
The eggs will then take about ten days to hatch at ideal temperatures (72 Fahrenheit).
After hatching, the nymph bed bugs will go through five molts before becoming a reproductive adult. Each molting stage, called an instar, can take up to a week.
Overall, it takes bed bugs at least seven weeks to grow from an egg to a fully grown adult.
So, one female bed bug that lays 3 eggs per day could grow a bed bug population to nearly 7,000 bed bugs in less than 5 months.
Assuming adult bed bugs live at least two months and baby bed bugs become reproductive adults in seven weeks.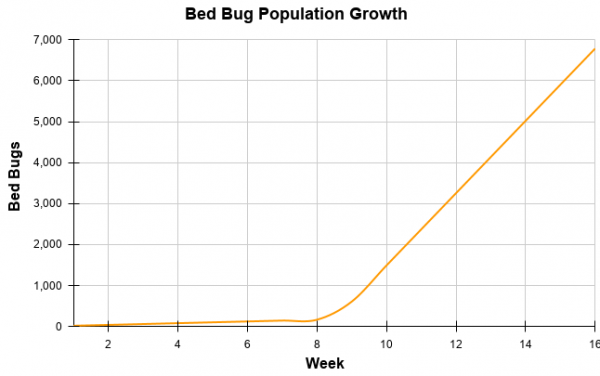 How Fast Do Bed Bugs Move?
Bed bugs can also crawl three to four feet per minute on most surfaces. That means they can travel from your mattress to your carpet very quickly.
They can also move from room to room through small cracks and crevices in walls.
If you live in apartments or condos and have a neighbor with an infestation, bed bugs can infest your home by crawling.
Bed bugs can also crawl from an infested carpet to your bag pretty quickly if you leave the bag on the floor.
This problem commonly happens to travelers who left their luggage on a bedbug-infested carpet in a hotel.
How do Bed Bug Spread?
Item to Item
Bed bugs typically spread from one area to another by hitchhiking on items and getting transported unknowingly.
Bed bugs or their eggs can hitch a ride in or on furniture, luggage, clothing, and electronic devices.
Common items bed bugs can hitch on are:
Furniture
Luggage, purses, computer bags or briefcases
Clothing
Mirror or picture frames
Electronics like clocks, computers or cell phones
Carpet scaps
Toys
Books
Curtains or drapes
Laundry baskets
Cardboard boxes
Person to Item
Although bed bugs do not stay on their hosts when not actively feeding, incidental transportation from a person to an item can happen.
Bed bugs can hitch a ride on your clothing or other belongings, especially in highly infested areas.
When people put on bed bug-infested clothes, they can move the bed bugs to other areas they go.
As such, you can get bed bugs from friends, neighbors, and hotels who have an infestation.
Wall to wall
Bed bugs are tiny, which allows them to freely move through wall voids, along utility lines, heating ducts, laundry, elevators, shafts, and mail chutes, and even crawl right under doors.
Because bed bugs can easily walk through walls, they are particularly hard to control in multiple-unit buildings.
How to Prevent the spread of Bed Bugs?
Keep Your House Clean And Tidy
Bed bugs love clutter. It provides them with the perfect shelter to hide and reproduce
Bed bugs can hide anywhere from dirty laundry, backpacks, lamps, books, electronics, etc.
The cleaner your house, the fewer places bed bugs can hide.
Being clean and organized makes it spot bed bugs as well as to get rid of them.
Change Your Linens
Changing your linens will help you identify bed bug infestation in its early stages.
Examine Used Furniture
If you like to buy used or antique furniture, inspect them before taking them home.
Inspect the zippers, folds, and seams for signs of bed bugs such as casings, droppings, eggs, and live bugs.
Seal Voids On Your Wall
Bed bugs typically spread from room to room through crevices and voids.
This type of transfer is especially common in multi-unit building.
To prevent these bugs from entering your home, make sure to seal up all the holes and crevices on your walls, floors, doors, and windows.
Bed bugs are tiny and can get into the smallest cracks and crevices, so don't skip any holes because they seem innocuous.
Use Smooth Storage Bins
Get storage bins that's made of smooth plastic or metal. This way bed bugs wont be able to crawl and infest anything in it.
Traveling
When traveling, keep your luggage off the floor to prevent it from becoming infected.
Place all your clothes inside a sealed plastic bag.
Once home, make sure to wash your clothes on hot water.
Any clothes that need to be dry cleaned should be sent for service. You can also put them in the dryer and run it on high heat for 30 minutes.
Monitoring
Inspect your home every three months once every season.
Regular inspections will help ensure that you catch any bed bug infestation at its earliest stages.
To make monitoring bed bugs more efficient you can purchase a monitoring device.
These devices include passive, active, or pitfall style traps.
Passive Monitoring
Passive monitoring involves using any trap that captures insects that come across it, such as sticky traps.
Unfortunately, sticky traps are not very good at catching bed bugs. As such, it's not a very good way to detect an infestation.
Active Monitoring
Active monitoring involves using heat, CO2, and other chemical attractants to draw bed bugs in.
Bed bugs find their host by the carbon dioxide (CO2) we breathe out.
Once the bugs detect the CO2 coming from the device, they will climb inside, but they won't be able to climb back up.
You can also use pitfall traps to capture and monitor bed bugs.
Pitfall traps are typically made of a plastic dish and work based on the fact that bed bugs cannot climb slippery surfaces.
They are usually placed under bed legs and furniture to capture bed bugs crawling on the legs.
They can be useful in preventing bugs from reaching their host as well as detecting bugs early.
While they work, pitfall traps are not very reliable at bed bug detection.
Because these devices can only detect bugs that travel in a specific location, it can easily miss other bed bugs infesting a room.
How to Treat the Spread Of Bed Bug Infestation?
There are several different ways you can treat bed bugs.
Common treatments include:
Washing, Steaming and Vacuuming
Heat Treatment
Mattress Encasement
Fumigation
Chemical Insecticide
Washing, Steaming, and Vacuum Treatments
This treatment process involves washing all fabrics, sheet covers, and drapery where bed bugs are located.
Items need to be washed on hot and dried on high temp to kill any bed bugs hiding inside.
The second step is using a steamer on all major furniture where bed bugs are hiding.
Steamers can reach temperatures up to 180 degrees Fahrenheit which can kill bed bugs instantly.
Using the steamer to steam all major hiding places for bed bugs.
The final step is to vacuum up all crevices, folds, and seams where bed bugs hide.
This does two things:
It picks up any dead bed bugs.
Removes any remaining bed bugs that the steamer missed.
Vacuuming is an excellent way of removing a large number of bed bugs, eggs, and shells skin quickly.
Mattress Encasement
Mattress and box spring encasements can be a great way to control bed bugs.
Encasements create a barrier between you and the bed bugs living in your mattress.
They are great if you are looking for an inexpensive and quick solution for your bed bugs.
Encasements are also great to use if you do not want to dispose of heavily infested mattresses.
Fumigation
Fumigation treatments release fumigant gas into bed bug-infested areas to control bed bugs in all life stages.
The great thing about fumigation is its ability to penetrate areas that are difficult to access, such as tiny folds, seams, and intricate fabric.
That said, fumigation requires extensive preparation.
You'll need to vacate all living things in your home until all traces of the fumigant have dissipated.
Fumigation also requires professional assistance, which can be costly.
You can fumigate smaller furniture or items using DDVP strips in air tight containers.
Chemical Insecticide
When using insecticides, make sure to read and follow all label instructions.
Pay special attention to what type of furniture, surfaces, and materials is the insecticide safe to use
You'll also want to pay attention to how long it takes before re-application and follow accordingly.
Signs of Bed bug Infestation
Some of the most common signs of bed bug infestation are:
Live Bed bugs – Bed bugs are about the size of a grain of rice, oval, flat, and light brown to reddish-brown.
Bed Bug Eggs – Bed bugs are smaller than a grain of rice, white and are oval.
Dried Blood – Small specs of fresh blood will look like dark red dots around your couch.
Skin Casings – Bed bugs shed their skin to grow. The presence of these skin cases is a good sign of bed bug infestation.
Bed Bug Bites – Bed bug bites look like welts and do not have a red spot at the center, unlike other insect bites such as spiders and fleas.
Bed bugs tend to hide in groups or near each other.
This is typically in undisturbed areas around your bedroom or other parts of your home.
They tend to hide near their host to make feeding as easy as possible.
This is why they tend to hide in seams, crevices, and folds in the fabric, furniture ,and drapery.
The most common locations bed bugs hide are in bedrooms or where humans tend to spend a lot of time.
During the day look for bed bugs in the following locations:
Mattresses seams and folds
Underneath mattresses
Under box spring
On box spring seams and fold as well as inside box springs, especially on the wood.
On wood crevices on box spring
Bed covers
Pillow covers
Drapery and curtains
Small crevices or gaps on the bed frame
Dressers and nightstands
Other furniture near beds or couches
Lamps
Walls
Behind hanging pictures and other hanging items.
Holes or crevices on walls or floorboards.
Inside couches
On carpet
On chairs and other furniture
Window sills
Resource: How To Find Bed Bugs During The Day