Is your garden plagued by bees?
You might feel like you you need to choose between having a beautiful garden or having bees.
This is not true.
In this post, I will go over several plants and flowers to plant in your garden to keep bees away.
Let's get started.
1. Cucumber Plants (Cucumis Sativus)
Cucumbers are delicious fruits. But, what you didn't know is that cucumbers plants can repel bees and wasps.
The acidic nature of the cucumbers peels is what repels bees.
A study found that cucumber plants and peels repel bees. But, cucumber peels were found to be much more useful than the plant.
I recommend using the peel of 2-3 cucumbers for additional protection against wasps and bees along with your cucumber trees.
You can place these around your home or in your garden to keep bees from flying over and creating nests in the area.
2. Basil
Basil plants are one of the most common herbs using in cooking, and they are effective repellents for many insects.
The main reason the basil is effective against pests is the strong aroma. Basil plants can emit a strong smell that is present from several feet away.
Bees and wasps will avoid areas where the aroma is present.
Basil plants are ideal for repelling bees because they are discrete and easy to care for. They thrive outdoors, in hot weather, which are the same conditions that bees are most active.
You can strategically place potted basil plants around your home to create a barrier of protection.
Basil plants are easy to find; most grocery stores sell live basil plants, and most hardware stores sell plants and seeds year-round. This means you shouldn't have any trouble getting your hands on basil.
3. Geraniums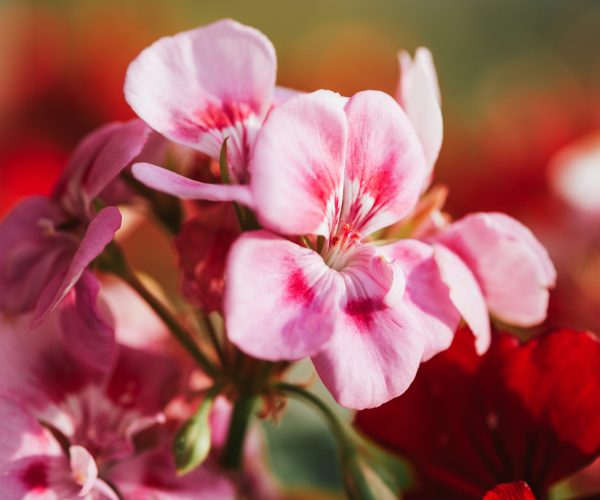 If you enjoy having plants around your home but hate all the bees they attract, I have a solution for you. Germaniums.
Geraniums repel bees for two reasons:
The scent they give off
They provide very little pollen
Red geraniums are the most effective flower for repelling bees.
Since bee's can't see the color red, they won't be bothered to approach them.
If they do, the strong scent will repel them. Geraniums are so effective against bees. As an alternative, people use geranium essential oil.
Geraniums allow you to use beautiful, colorful flowers in your garden without attracting bees.
4. Mint
Mint is not only a useful cooking herb, but it's also a proven method of repelling bees.
The essential oils of mint plants are commonly used as an alternative to repel many insects, including ants, cockroaches, and termites.
Mint plants release a strong aroma that lasts all year. This is because the aroma is emitted by the stems, leaves, and flowers, unlike other plants where the scent only comes from the flowers.
This means it will still repel bees if there are no flowers or leaves on the plant.
5. Eucalyptus
To humans, eucalyptus plants release a pleasant scent, but to bees, the scent is piercing.
The smell emitted from eucalyptus plants repels bees.
This smell is typically present up to five feet away from the plant. This gives you a wide range of protection when using eucalyptus plants.
Another advantage is that eucalyptus plants flower all year-long, providing equal protection at all times of the year.
6. Thyme
Thyme is another common herb used inside kitchens, but it can also be used to repel bees. It's highly effective because plants produce a scent from their stem, leaves, and flowers.
This means that they can provide protection even when the flowers aren't blossoming.
Compared to other herbs, the range of repellency is quite small. You can typically only smell thyme plants from 1-2 feet away.
Although the coverage is small, thyme plants are easy to care for and impervious to seasons changes.
7. Roses
As weird and counter-intuitive as it may seem, bees are not attracted to roses.
There are a few things you can do to make them even less attractive to bees.
Use unscented roses.
Use lighter colored roses.
Unscented roses will attract fewer bees because they can't smell them. Lighter colored roses are hard for bees to see, which makes them less likely to approach them.
8. Pennyroyal
Pennyroyal is a type of mint. It grows much smaller and robust compared to other mint plants.
Just like mint, the scent by pennyroyal repels bees and wasps.
Pennyroyal is easy to care for. It grows close to the ground and spreads quickly. This makes it great for creating discrete barriers against bees.
It's extremely easy to grow. Other than that, it needs frequent watering. Overall, it's an excellent choice for people who don't want to spend lots of time caring for their plants.
9. Citronella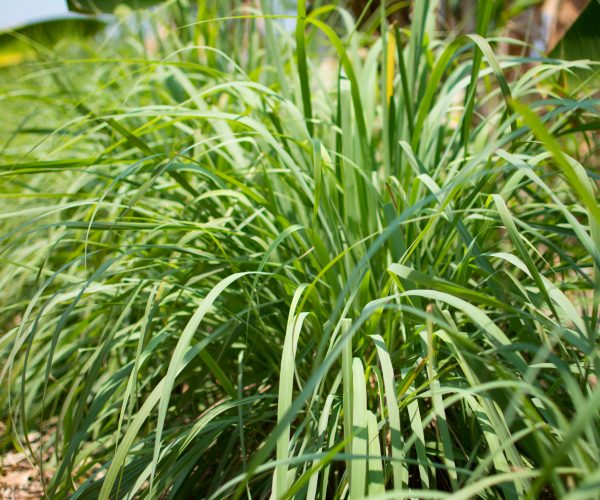 Citronella is not a plant but a natural oil found in certain plants. One of the most common plants that contain citronella is lemongrass and citronella grass.
This chemical is most famous for repelling mosquitos, but it's also effective against bees and wasps.
Citronella releases a strong scent that repels bees.
Be aware of citronella scented plants. These plants don't produce citronella naturally but only smell like it.
Avoid purchasing any plants that do not produce it naturally.
Two of the best choices are Cymbopogon nardus or Cymbopogon winterianus. These are citronella plants that are effective against bees and wasps.
10. Wormwood
Wormwood is an uncommon herb that is used in various folk remedies. It's most known for its distinctive aroma and medicinal properties.
Wormwood has a distinctive smell and often pungent. A chemical called absinthe is responsible for the small, and it's known to have proven insecticidal properties.
When insects, including bees and wasps, smell wormwood, they are alerted and receive a signal to avoid the area.
One major issue with wormwood is that it's potent. The insecticidal properties and strong scent of wormwood can kill off plants nearby. It can also disrupt the growth and blossoming patterns of nearby plants.
Wormwood is a great option if you don't have a garden or other important plants. This will allow wormwood to repel bees without killing any other plants nearby.
Since it's easy to grow and adaptable, this is a great option for people who don't experience growing plants.
11. Marigolds
Marigolds are another flower that repels bees.
Bees do not like Marigols for two reasons.
The first is because they are double flowers.
Release limonene, which is toxic to bees and wasps.
Double flowers are flowers that have an extra set of petals. This makes it very difficult for bees to reach the pollen in the flowers.
Marigolds release limonene, a chemical with proven insecticidal properties against bees and wasps.
One of the disadvantages of marigolds is that you need to plant them in large quantities to be effective.
Marigolds are a great way to repel bees without having to forgo a beautiful garden with flowers.
12. Pitcher Plants
Pitcher plants do not repel bees in the traditional sense. They are carnivorous plants that kill bees.
They do this using a pitfall mechanism; the bees will fly inside in search of pollen. The bottom of the trap is filled with digestive enzymes that will kill the bees after they fall in.
Pitchers plants are easy to care for except that they require moist soil. You must develop a method to keep the soil moist. The best way is to use a drip system that will continuously release water throughout the day.
The main disadvantage of pitcher plants is that they tend to die off during winter. Then they will grow back as temperatures rise.
13. Feverfew
Feverfew is small white and yellow flowers that resemble sunflowers.
This is a great choice if you still want your garden to look pretty but want to keep bees away.
Feverfew plants produce a strong citrus scent that repels bees and will drive them away from your home.
I recommend planting them all-around your home in small pots or even in the ground to create a barrier around your home.
These flowers allow you to have flowers in your home without attracting bees, which is not always an easy task to do.
Feverfew flowers are easy to grow and maintain. This makes them perfect for those who are not great at caring for flowers but want the beauty they offer.
Conclusion
Bees are crucial to our ecosystem. They pollinate over 90% of the crops that we eat.
If you have bees buzzing around your home or all over your garden, don't feel the need to kill them.
Use this list to choose flowers and plants that will repel bees away from your home naturally.
Now get out there and protect your home and your family naturally while still saving the bees.