Cellar spiders, also known as daddy long legs, are harmless spiders you'll commonly see in your home.
These spiders are generally harmless. But that doesn't necessarily mean they are good to have inside your house.
In this post, we'll go over everything you need to know about cellar spiders. From their appearance to getting rid of them, we'll cover them all.
Let's dive in.
What Do Cellar Spiders Look Like?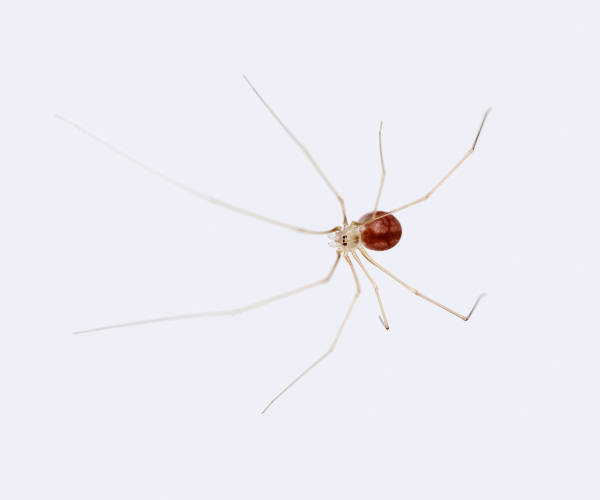 Cellar Spiders are otherwise known as daddy long legs. These spiders are common across the United States.
In fact, most people don't even remove cellar spiders from their homes because they are harmless to humans but offer benefits to your home.
Color: Cellar Spiders are typically yellow, brown, or grey. In most species, they are one solid color.
Pattern: The pattern of the cellar spider will vary depending on the species. Some species don't have patterns on their abdomen while others have distinct patterns.
Body: They have unique bodies that are easy to identify. They have small bodies with eight long skinny legs.
Size: When cellar spiders have measured the body and legs are typically measured individually. Cellar spider bodies measure between ¼" and their legs measure between 1″ and 1 ¾". Female spiders are typically larger than males.
Cellar Siders vs. Harvestmen: How To Tell The Difference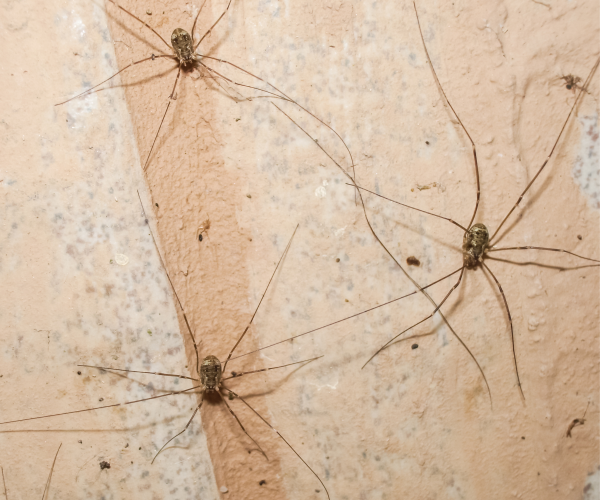 Cellar Spiders and Harvestmen are often confused because they look very similar. They are both referred to as "daddy long legs".
Harvestmen are common outdoors and are often found in large colonies or nests. Cellar spiders are common indoors or near structures and are typically alone unless they are with their babies.
There are 4 key differences between cellar spiders and harvestmen.
Harvestmen are not spiders but a family in the arachnid class. Cellar spiders, on the other hand, are a species of spider.
Cellar Spiders create webs while harvestmen don't. If you see a daddy long leg in a web it's definitely a cellar spider.
Cellar spiders have two parts to their body a distinct head and abdomen. Harvestmen, on the other hand, have one-part which is an oval-shaped body.
Cellar spiders have patterns on their legs. These patterns tend to make their legs look like they are in segments. The legs of harvestmen are one solid color with no visible patterns.
Are Cellar Spiders Venomous?
Yes. Cellar spiders like most spiders are venomous and will inject it when they bite.
You've probably heard that cellar spiders, or "daddy longlegs," as they are commonly referred have the deadliest venom of any spiders. But, their fangs are too fragile to break the human skin, which makes them harmless.
It turns out this is a myth on all accounts.
First, cellar spider venom has been tested and proven to be much weaker than a black widow's venom.
Second, although cellar spiders have small fangs, they can actually penetrate human skin.
The myth that they are highly venomous likely originated because they commonly feed on black widow spiders.
After realizing this, many people assumed that if cellar spiders could kill highly venomous spiders such as the redback, then it was probably much more venomous.
The reality is that cellar spiders can kill black widows because they are larger and faster. It has nothing to do with the potency of their venom.
You can check out this video if you want to watch the MythBusters disprove the age old wife tale.
Are Cellar Spiders Good?
Yes. Cellar spiders are considered a good spider species to have inside your home in moderation. This is mainly for two reasons.
They are relatively harmless to people. Their venom is very weak and they rarely bite people.
Second, they tend to feed on insects and other spiders inside your home. They can help reduce or keep other pest infestations in control.
If infestations grow too large it's highly suggested that you eliminate the infestation in your home.
Can Cellar Spiders Live Outside?
Cellar spiders can live outside. Although they do tend to prefer to live inside some species of spiders can survive outdoors.
Outdoors you are likely to find cellar spiders near structure even on the walls, eves, or window sills. They are also commonly found in outdoor structures such as sheds and barns.
If they are in nature you are likely to find them in caves or other outdoor dwellings.
Should I kill Cellar Spiders?
No. You shouldn't kill cellar spiders. In most cases they are harmless to humans and they protect your home from other insects.
Cellar spiders are great hunters and they will eliminate many of the other insects that may be hiding in your home.
With that said, cellar spider infestations can grow out of hand. If your cellar spider infestation is disturbing your life then it's likely you need to get rid of them.
This typically happens because cellar spiders tend to create webs near each other. This means that with large infestations cobwebs can grow quickly and be unsightly.
This is especially true if the webs are starting to build up rapidly around your home or you are starting to see cellar spiders more frequently around your home.
Why Do I Keep Getting Cellar Spiders?
Cellar spiders prefer two things when they enter a home. The first is that there is a food source.
If there are lots of cellar spiders inside or outside your home this is a sign that you have other pest problems.
The other reason that you might be getting cellar spiders is if there are damp or moist areas around your home.
Cellar spiders are attracted to moisture or humid areas. This is the reason they are often found in cellars, basements, and attics.
What Do Cellar Spiders Live?
Cellar spiders tend to live in dark and moist areas. This is one of the main reasons they are called cellar spiders. They get their name from living in areas that are similar conditions as a cellar.
There are around 20 different species of cellar spiders in the U.S. Each typically adjusts their living environment.
Most cellar spiders will live in dark areas that are primarily undisturbed. Inside homes, they are drawn to clutter or high moisture areas such as garages, patios, or sinks.
Some species of cellar spiders are common indoors such as bending furniture or at the corners of your walls. This is because they have adapted or because the external weather is conducive to them living in open environments.
What Do Cellar Spiders Eat?
Cellar spiders, like most other spiders, are active hunters. They rely on eating live insects. The cellar spiders diet is comprised mostly of small flying insects such as moths, flies, and mosquitoes.
They commonly position their webs near light sources, making it easy for them to catch their prey.
Cellar spiders will also eat any other insects that fall lure into their web. Unlike other hunting spiders, cellar spiders rely on their web to catch their prey. After the web traps them, they are wrapped in a silk cocoon.
What Do Cellar Spider Eggs Look Like?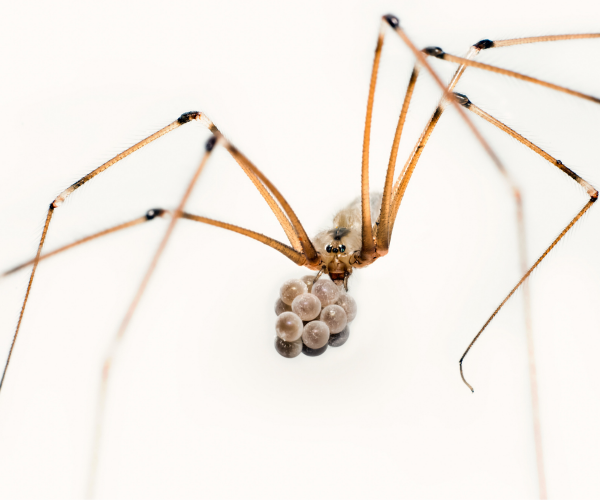 Cellar spiders produce small sacks filled with eggs similar to other spiders. Unlike other spiders, they do not attach them to their web or other parts of their home.
Cellar spiders actually hold their egg sack in their month until they are ready to hatch.
If you see a cellar spider with what looks like a large head or with two abdomens, this cellar spider is holding its egg sack.
Be cautious with these spiders. I recommend you catch this spider to prevent the infestation from growing in your home.
Why Do Cellar Spiders Vibrate?
Cellar spiders are sometimes called vibrating spiders. This is because when they feel threatened in their web, they will vibrate aggressively.
This is a self-defense technique they use to drive away any animals or insects attacking their web.
If you accidentally touch or move a cellar spider web, they may begin doing this. So don't panic and think that you caused this dramatic reaction.
After some time, the cellar spider will stop vibrating and return to its usual calm state.
How To Get Rid Of Cellar Spiders
Cellar spiders are generally a harmless and beneficial spiders species to have in the home. Unfortunately, when infestations get too large there is no other option than to eliminate them.
Below are a few steps you can take to get rid of cellar spiders from your home.
Seal Entry Points
The first thing you can do to help get rid of cellar spiders is to seal all entry points. Like most other spiders, spiders can only get into your home if there is an entry point.
You might think because cellar spiders are long and big that they don't fit in certain places. The reality is that they can fit into very small entry points.
Below are some areas that you should ensure are sealed to prevent cellar spiders from entering your home.
Weatherproof doors and windows
Apply doors sweeps to all doors
Install screen doors if you like to leave your doors open
Fix or replace screen doors
Apply bugs screens to vents on basements and attics
Apply caulk to any cracks, crevices, or holes inside and outside your home
Taking all the steps above will make it much harder for spiders to enter your home. The next several steps will help you address the spiders that are inside your home.
Clean and Declutter Your Home
If you have cellar spiders inside your home, it's good to clean up and remove any clutter. Cellar spiders thrive inboxes and other clutter. These areas give them secluded and dark places where they can hide and create their webs.
These areas are often ideal because they attract other insects as well. You must make sure all boxes are closed properly—stack boxes near each other to limit hiding places.
It's also ideal to always bag or box things to prevent spiders and other insects from living within your belongings.
Cleaning and de-cluttering are essential in basements, garages, cellars, closets, storage rooms, or unused rooms because this is commonly where cellar spiders prefer to live.
Eliminate Food Sources
One of the main reasons cellar spiders tend to infest homes is because there is a consistent food source that they can survive off of. Cellar spiders are a sign that there are other insect problems inside or outside your home.
One thing you can do is eliminate or address the other insects living inside your home.
Depending on the types of insects that are in your home may require various steps. In most cases, the most effective way to reduce the number of insects outside your house is to apply an insecticide barrier. This will kill any insects that attempt to enter or walk around your home.
Eliminate Humidity or Moisture
Cellar spiders are attracted to moisture or humid areas. One way to get rid of cellar spiders is to eliminate the conditions that make your home habitable.
You can do this two ways. If there is a leak make sure you eliminate the water source. If there is water damage its important that you replace any water damaged sources.
Water damaged areas can provide enough moister for cellar spiders even after the water source is addressed.
Certain areas of your home are naturally more humid than others. To reduce humidity you can use a dehumidifier in these areas. Common areas where dehumidifiers might be necessary include:
Cellars
Basements
Attics
Storage Rooms
Empty Rooms
Rooms with A/C
Bathrooms and kitchens
Rooms with fish tanks or water features
Rooms where humidifiers or diffusers are used.
Remove Webs, Spiders, and Egg Sacs
To reduce the population and make your home less appealing I recommend you use a vacuum to remove all webs, live spiders, and egg sacs in your home.
This is an effective and fast way to remove webs, spiders, and egg sacs and disposing of them properly.
I recommend you use a vacuum cleaner with a tube extension that allows you to easily get spiders and webs that are on ceiling corners, behind furniture, or in other hard to reach areas.
Apply Insecticide Indoors and Outdoors
It's often unnecessary to apply insecticide indoors for cellar spiders since they commonly live outdoors. It's only necessary to apply insecticide indoors if the infestation is large.
In this case, getting rid of wolf spiders is a bit harder because you need to apply it indoors.
The most effective type of insecticide is one that has a residual effect. There are two insecticide options: residual sprays and granules.
Residual Spray
The most effective type of insecticide for cellar spiders is a residual spray. A residual spray provides a lasting effect that will kill any insects that come into contact with the insecticide between 3 and 6 months later.
When applying insecticide spray you want to target your foundation as well as 3 feet upwards from the floor on your walls.
You should also apply the residual spray around doorways and windows to prevent wolf spiders from trying to sneak into your home.
You should also consider spraying any outside structures to prevent cellar spiders from making their home inside those. This includes sheds, garages, and patios.
You can also apply the residual insecticide to your grass, plants, and other areas outside your home. Remember to double-check the label before applying your insecticide. Make sure that it's safe for application on plants. It should also mention how long before animals or children can use the grass again.
Use Glue Boards to Monitor and Kill Stragglers
To eliminate wolf spiders that are already inside your house is using glue boards.
Glue boards tend to be very effective at eliminating any remaining spiders and monitoring the activity in your home. They will help you identify which rooms in the house see the most activity and where you should focus your attention.
This is important because smashing wolf spiders is not always recommended. This is because mother wolf spiders carry their young on their back. If you kill them, you will end up with many baby wolf spiders on the floor of your home.
They also allow you to trap and eliminate the infestation while you sleep. Place these glue boards under appliances, furniture, baseboards, guidelines, and any other place you've seen spiders.
As bait, you can place a small insect at the center, which will draw cellar spiders towards the trap.